Johannesburg to Zanzibar
Booking Dates
07/02/2023 through 11/19/2024
Travel Dates
07/02/2023 through 12/20/2024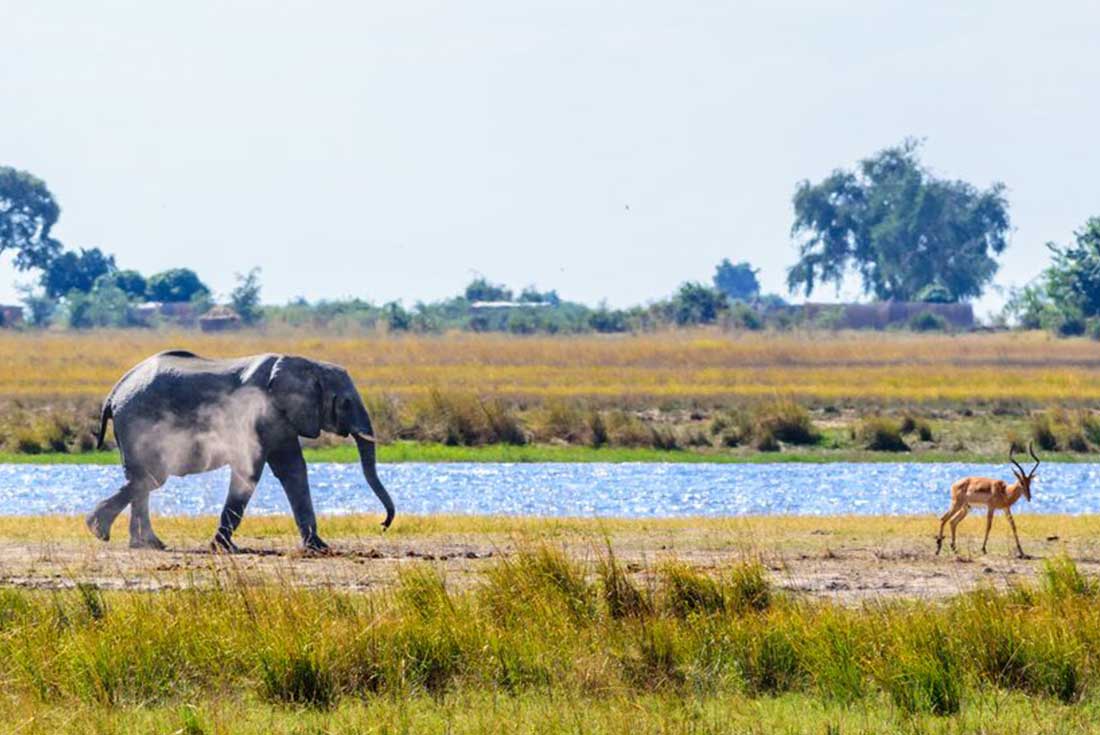 Johannesburg to Zanzibar

Travel through South Africa, Botswana, Zimbabwe, Zambia and Tanzania towards Zanzibar on this northbound overland adventure. Your 29 days will be spent getting up close to rare black and white rhinos at the Kharma Rhino Sanctuary, taking a traditional mokoro through the fertile waterways of the Okavango Delta, admiring Victoria Falls from all angles, exploring the highland villages, clear-water lakes, ruins and wide-open plains of Zambia and Malawi, and winding up on the idyllic shores of Zanzibar. Local guides and a knowledgeable crew have got all your needs covered, plenty of time for independent activities will have you curious to see more, and a travel group eager to explore will ensure the epic memories made are shared.

Activities
Khama Rhino Sanctuary – Sunset Game Drive Open Vehicle
Okavango Delta – Mokoro safari
Okavango Delta – Sunrise Walk
Okavango Delta – Mokoro safari
Nata – Makgadikgadi Salt Pans 4×4 Excursion
Chobe National Park – River Cruise
Victoria Falls – Victoria Falls Wildlife Trust Visit
Masvingo – Great Zimbabwe Ruins guided visit
South Luangwa – Jewellery workshop Project
South Luangwa National Park – 4×4 Afternoon Game Drive
South Luangwa National Park – 4×4 Dawn Game Drive
Mikumi National Park – 4×4 Game Drive
Highlights
Support local conservation efforts by visiting the Khama Rhino Sanctuary – the only place left in Botswana where both black and white rhinos sit side by side.
Camping on a remote island in the heart of the Okavango wilderness is an experience you'll never forget. As night falls, the sounds of the remote African bush come alive!
Go wildlife-spotting along the river at Chobe National Park – home of the world's highest concentration of African elephants – and keep the safari going in South Luangwa National Park on a dawn game drive.
Experience the rumble and roar of Victoria Falls from the Zimbabwe side, which gives you the broadest view. Looking for something special? Why not book in a scenic helicopter experience!
Chill out on the pristine beaches of Zanzibar, and consider discovering the island's renowned spice plantations on an optional guided visit.
| Day | Description | View All |
| --- | --- | --- |
| Day 1 | Johannesburg | Details |
| Day 2 | Khama Rhino Sanctuary | Details |
| Day 3 | Maun | Details |
| Day 4 | Okavango Delta | Details |
| Day 5 | Okavango Delta | Details |
| Day 6 | Maun | Details |
| Day 7 | Nata | Details |
| Day 8 | Chobe National Park | Details |
| Day 9 | Victoria Falls | Details |
| Day 10 | Victoria Falls | Details |
| Day 11 | Victoria Falls | Details |
| Day 12 | Bulawayo | Details |
| Day 13 | Bulawayo | Details |
| Day 14 | Masvingo | Details |
| Day 15 | Harare | Details |
| Day 16 | Lusaka | Details |
| Day 17 | Petauke | Details |
| Day 18 | South Luangwa National Park | Details |
| Day 19 | South Luangwa National Park | Details |
| Day 20 | Lake Malawi | Details |
| Day 21 | Lake Malawi | Details |
| Day 22 | Chitimba | Details |
| Day 23 | Iringa | Details |
| Day 24 | Mikumi National Park | Details |
| Day 25 | Dar es Salaam | Details |
| Day 26 | Stone Town | Details |
| Day 27 | Zanzibar Northern Beaches | Details |
| Day 28 | Zanzibar Northern Beaches | Details |
| Day 29 | Stone Town | Details |